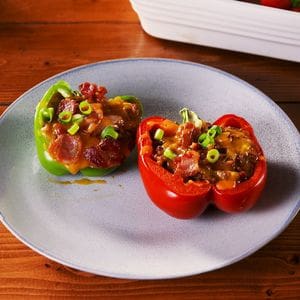 Whether you're on a keto diet or not, these keto stuffed peppers are a fun twist on stuffed peppers, which typically include rice or another hearty grain which are not keto-friendly.
The filling can be changed.
If you don't like ground beef, substitute ground chicken, turkey, or lamb. A mixture of ground beef and pork will add a little extra flavor and fat.
Prepare these in advance.
When ready to bake, top the peppers with cheese and bacon and follow the instructions below. This is a great make-ahead recipe. Stuff the peppers, then cover and refrigerate.
The leftovers should be reheated.
Place the peppers back in the oven until the mixture is warmed through. Top with a little extra cheese if you like.
Keto Stuffed Peppers Ingredients
4 slices bacon, cut into 1/2″ strips
1/2 medium onion, chopped
1 lb. ground beef
1 tbsp. chili powder
2 tsp. ground cumin
1 tsp. dried oregano
1 tsp. paprika
Kosher salt
Freshly ground black pepper
1 cup low-sodium beef broth
1 (14.5-oz.) can of diced tomatoes, drained
4 bell peppers, sliced in half
2 cups shredded cheddar
2 tbsp. Thinly sliced green onions
Nutrition Information Per Serving
Calories 361
Fat 27g
Sodium 585mg
Carbohydrates 5g including:
Protein 20g  
Note: As usual, the information shown is an estimate based on available ingredients and preparation.
Directions
Preheat oven to 350°.
Add bacon to a large pot over medium heat and cook until crispy, 8 minutes.
Drain on a paper towel–lined plate. 
Add onion to the pot and cook until soft, 5 minutes.
Add beef and cook, breaking up meat with a wooden spoon until no longer pink, 7 minutes.
Add chili powder, cumin, oregano, and paprika.
Season with salt and pepper. 
Add broth and tomatoes and bring to a boil.
Reduce heat and let simmer until slightly thickened, about 20 minutes. 
Place bell pepper halves in a large baking dish and fill with chili.
Top with cheddar and bacon and bake until cheese melts and peppers are softened for about 30 minutes.  
Garnish with green onions before serving.