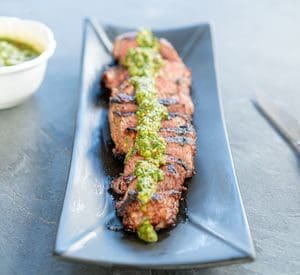 Preparation time: 10 minutes
The recipe makes one and a half cups
With just the right mix of herbs, spices, vegetables, and sauces, this Keto Chimichurri Sauce is perfect for beef, salmon, or chicken. This is vegetarian-friendly as well.
Keto Chimichurri Sauce Ingredients
2 large shallots peeled & sliced thinly
1 cup fresh cilantro leaves, washed and dried
1 cup Italian parsley leaves, washed and dried
1/4 cup oregano leaves (about 6 sprigs) washed dried dried
6 cloves of fresh garlic, peeled and smashed
2 Fresno chili peppers, washed and seeded
1/2 cup extra virgin olive oil
1/4 cup red wine vinegar or apple cider vinegar
Salt & Pepper to Taste
Directions
Add to a large food processor after preparing your green herbs, peppers, garlic, and shallot.
Combine the vinegar with the vegetables and pulse a few times to break down the ingredients.
Add the olive oil and blitz the sauce until thoroughly chopped. You'll know when you're at the right consistency when the mixture looks like a finely chopped salsa.
Taste and season with salt and pepper.
Transfer the sauce to a large glass bowl and allow it to sit at room temperature for 30 mins before serving. This resting time allows the flavors to meld.
Refrigerate any remaining sauce and use it within 3-5 days.