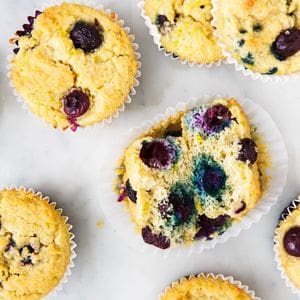 Why keto blueberry muffins? Some mornings, we desire something sweet to go with our coffee.
Most breakfast pastries lack nutritional value and can leave us feeling hungry before lunchtime due to their high sugar content. While cinnamon rolls are delicious, they aren't the ideal breakfast food.
These muffins were specifically created to satisfy those cravings while providing protein and fruit without any added sugar – a triple win!
Are other fruits suitable for this recipe aside from blueberries? Absolutely! Raspberries, strawberries, and blackberries would all serve as lovely substitutes; simply avoid using overly sugary fruits.
Keto Blueberry Muffins Ingredients
2 1/2 cups. almond flour
1/3 cup keto-friendly sugar (such as Swerve or Monk fruit extract)
1 1/2 tsp. baking powder
1/2 tsp. baking soda
1/2 tsp. kosher salt
1/3 cup melted butter
1/3 cup unsweetened almond milk
3 large eggs
1 tsp. Pure vanilla extract
2/3 cup fresh blueberries
Zest of 1/2 lemon (optional)
Nutrition Information
Per Serving (Serves 12)
Calories 229
Fat 18g
Sodium 154mg
Carbohydrates 9g, including:
Protein 7g
 
Note: The information shown is an estimate based on available ingredients and preparation.
Directions
Preheat oven to 350°
Line a 12-cup muffin pan with cupcake liners.
Whisk to combine almond flour, Swerve, baking powder, baking soda, and salt in a large bowl.
Whisk in melted butter, almond milk, eggs, and vanilla until well combined.
Gently fold blueberries and lemon zest (if using) until evenly distributed.
Scoop equal amounts of batter into each cupcake liner
Bake until slightly golden and a toothpick inserted into the center of a muffin comes out clean, 23 minutes.
Let cool slightly before serving.