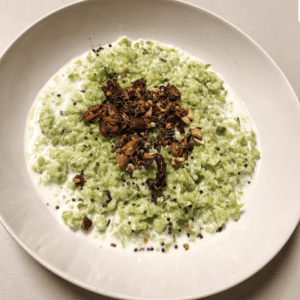 Preparation time: 10 minutes
Cooking time: 10 minutes
Serves 4 hungry people
One of my family's favorite comfort foods is Keto yogurt rice. Cooked rice is mixed with yogurt and topped with a combination of mustard seeds, red chilies, asafoetida (see the link for details), curry leaves, and peanuts sautéed in oil.
This recipe is the ultimate cooler on hot summer days.
Keto Rice Yogurt is a simple but very nutritious dish. I substitute broccoli rice for traditional rice, and it's perfect when you need a little bit of something light on a warm day. To make this version, steam the broccoli or even cauliflower and then put it in the blender with some yogurt and garlic.
Keto Yogurt RiceIngredients
2.5 cups Broccoli or cauliflower rice
1/2 cup Greek yogurt
1 tablespoon Cooking oil
1 tablespoon Mustard seeds
3 Dried red chilies
1/2 teaspoons Asafoetida or another of your favorite
4-5 Curry leaves (optional)
4-5 Peanuts chopped (optional)
Salt to taste
Directions
Put the broccoli or cauliflower rice in a microwave-safe bowl, cover with a paper towel, and cook for four minutes. Cool the rice for 10 minutes.
Add the yogurt to the rice and mix well.
Add salt as needed and mix well.
In a small saucepan, warm up a tbsp of oil and add the mustard seeds, red chilies, asafoetida, curry leaves, and peanuts. When the mustard seeds start popping, pour the mixture on the yogurt rice and mix well.
Enjoy!