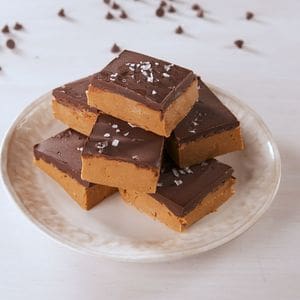 These delicious Keto Peanut Butter Squares are best enjoyed cold, so be sure to keep them refrigerated until you're ready to serve!
Create a delicious dessert using simple and accessible ingredients! Give this recipe a try!
Total Time: 2 hrs 15 mins
Keto Peanut Butter Squares Ingredients
Cooking spray, for the pan
1 1/2 cups smooth unsweetened peanut butter
1 1/4 cups coconut flour
1/4 cup keto-friendly powdered sugar, such as Swerve or Monk fruit
Pure vanilla extract as desired
1 Pinch of kosher salt
2 cups keto-friendly chocolate chips
2 tbsp. coconut oil
1 tbsp. Flaky sea salt, for garnish
Directions
Line an 8″-x-8″ baking pan with parchment paper and grease with cooking spray.
In a medium bowl, combine peanut butter, coconut flour, powdered sugar, vanilla, and salt.
Stir until smooth and pour into the prepared pan, smoothing the top with a spatula.
Place in the freezer for 30 minutes to firm up.
Combine chocolate chips and coconut oil in a medium microwave-safe bowl.
Microwave, stirring every 30 seconds, until smooth and pourable.
Pour chocolate over the peanut butter layer and smooth. 
Garnish with flaky sea salt and place in the freezer to harden for 2 hours or up to overnight.
When ready to serve, remove the peanut butter bars from the baking dish and cut them into squares.
Nutrition (per serving):
280 calories,
9 g protein,
14 g carbohydrates, including:
20 g fat, including:
540 mg sodium.