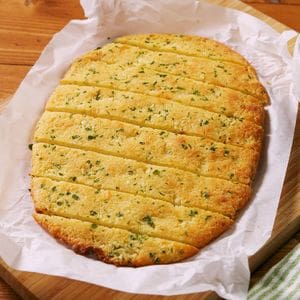 What is the secret to really good low-carb bread? Cheese. Try this Keto Garlic Bread, it's simply delicious.
I tried many keto bread recipes, and this one is by far the winner. It's easy to make with easy-to-find ingredients.
Keto Garlic Bread Ingredients
1 cup shredded mozzarella
1/2 cup finely ground almond flour
2 tbsp. cream cheese
1 tbsp. garlic powder
1 tsp. baking powder
Kosher salt
1 large egg
1 tbsp. butter, melted
1 clove garlic, minced
1 tbsp. freshly chopped parsley
1 tbsp. freshly grated Parmesan
Marinara, warmed, for serving
Nutrition Information Per Serving (Serves 4)
Calories 253
Fat 20g
Sodium 345mg
Carbohydrates 4g including:
Protein 13g  
Note: As usual, the information shown is an estimate based on available ingredients and preparation.
Directions
Preheat oven to 400° and line a large baking sheet with parchment paper. 
Add mozzarella, almond flour, cream cheese, garlic powder, baking powder, and a large pinch of salt in a medium, microwave-safe bowl.
Microwave on high until cheeses are melted, about 1 minute.
Stir in egg. 
Shape dough into a ½" thick oval bread stick on a baking sheet. 
Mix melted butter with garlic, parsley, and Parmesan in a small bowl.
Brush the mixture over top of the bread.
Bake until golden, 15 to 17 minutes.
Slice and serve with marinara sauce for dipping.