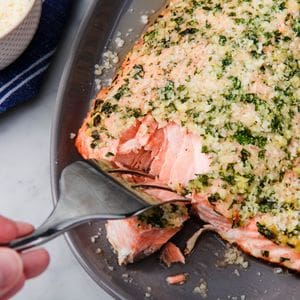 It is already loaded with healthy fats, but we added butter and Parmesan to make it, even more, Ketogenic friendly with this Keto Garlic Butter Salmon. It's true. Fat is good for ketosis. What's not allowed: carbs. It's completely satisfying, and oven-baked salmon is the easiest way to prepare it.
Have you made this yet? Not yet? Try it, it's delicious, easy, and fast to make. 
Keto Garlic Butter Salmon Ingredients
1 to 3-lb. salmon fillet
Kosher salt
Freshly ground black pepper
4 tbsp. melted butter
1/4 cup freshly grated Parmesan
2 cloves garlic, minced
2 tbsp. freshly chopped parsley
Nutrition Information Per Serving (Serves 8)
Calories 189
Fat 15g
Sodium 164mg
Carbohydrates 0g
Protein 13g  
Note: As for the other recipes, the information shown is an estimate based on available ingredients and preparation.
Directions
Preheat oven to 350°.
Line a large, rimmed baking sheet with foil and lightly grease with cooking spray.
Place salmon on top and season with salt and pepper.
Mix melted butter, Parmesan, and parsley in a small bowl.
Coat salmon with the mixture, patting to cover in an even layer.
Bake until the salmon is cooked through, about 25 minutes. 
Switch oven to broil and broil until the top begins to turn lightly golden, about 2 more minutes.