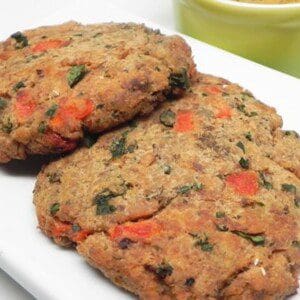 These Keto Salmon Patties come with no sugar and no grain. Baked, not fried. No gluten, low carb. Serve with lemon wedges and hot sauce.
They make a healthy alternative to traditional, high-calorie deep-fried fish patties. These Keto Salmon Patties can be served hot or cold and make a great addition to any salad or sandwich. They can also be used as a topper for sweet potatoes or as a tasty appetizer. Enjoy the delicious taste and amazing health benefits of these Keto Salmon Patties!
Keto Salmon Patties Ingredients
3 teaspoons olive oil, divided, or as needed
1 (14-ounce) can of salmon, drained and flaked
½ red bell pepper, finely chopped
¼ cup minced fresh parsley, or to taste
2 tablespoons Dijon mustard, or more to taste
2 tablespoons finely chopped capers
salt and ground black pepper to taste
½ cup almond meal, or more as needed
Directions
Preheat the oven to 450 degrees F.
Grease a baking sheet with 1 teaspoon oil and place in the preheating oven.
Mix salmon, red pepper, parsley, Dijon mustard, capers, salt, and pepper together in a medium bowl.
Stir in an almond meal until the mixture begins to bind together.
Form into four 1/2-inch-thick patties.
Add patties to the preheated baking sheet.
Drizzle tops with remaining olive oil. Bake until heated through and golden brown, 15 to 20 minutes.
Nutrition Facts (per serving)
226 Calories
10g Fat
7g Carbs
30g Protein