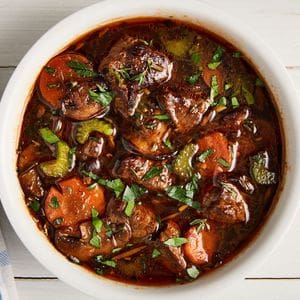 Making Keto Beef Stew is a breeze with just a few subtle adjustments. The outcome is still an incredibly smooth and satisfying meal. To make up for the absence of a thickening agent, the stew is reduced to create a hearty and flavorsome dish. This dish is the perfect solution to any cold winter evenings, ensuring you feel wonderfully cozy.
Do you want to create a variety of delectable keto comfort foods? Come up with a delicious plate that includes cauliflower mac and cheese and creamed spinach. Why not try one of my easy-to-make Keto desserts to complete the meal?
Keto Beef Stew Ingredients
2 lb. beef chuck roast, cut into 1″ pieces
Kosher salt
Freshly ground black pepper
2 tbsp. extra-virgin olive oil
8 oz. Baby Bella mushrooms, sliced
1 small onion, chopped
1 medium carrot, peeled and cut into rounds
2 stalks of celery, sliced
3 cloves garlic, minced
1 tbsp. tomato paste
6 cups low-sodium beef broth
1 tsp. fresh thyme leaves
1 tsp. freshly chopped rosemary
Nutrition Information Per Serving (Serves 6)
Calories 300
Fat 13g
Sodium 1103 mg
Carbohydrates 7g Including:
Fiber 2g
Sugar 4 g
Protein 39g
Directions
Pat beef dry with paper towels and season well with salt and pepper. 
In a large pot over medium heat, heat oil.
Working in batches, add beef and sear on all sides until golden, about 3 minutes per side.
Remove from pot and repeat with remaining beef, adding more oil as necessary. 
In the same pot, add mushrooms and cook until golden and crispy, 5 minutes.
Add onion, carrots, and celery and cook until soft, 5 minutes.
Add garlic and cook until fragrant, 1 minute more.
Add tomato paste and stir to coat vegetables. 
Add broth, thyme, rosemary, and beef to the pot and season with salt and pepper.
Bring to a boil and reduce heat to a simmer.
Simmer until beef is tender, 50 minutes to an hour.
Enjoy this Keto Beef Stew!