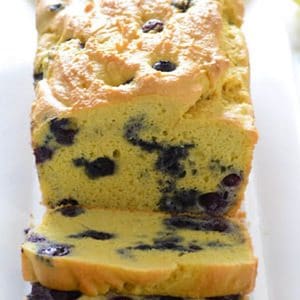 I love writing easy keto recipes for you, and this Keto Blueberry Lemon Bread recipe is as simple as it gets.
When I went on a Keto Diet, I knew I'd need treats because I don't believe in deprivation. So, I started making this Keto Blueberry Lemon Bread from a Paleo Cook Book.
This easy keto bread recipe is perfect for dunking in my morning coffee.
Preparation time 15 minutes
Cooking Time 45 minutes
Total Time 1 hour
Keto Blueberry Lemon Bread Ingredients
3 cups blanched almond flour (not almond meal)
2 tablespoons egg white protein powder
1 teaspoon cream of tartar
½ teaspoon baking soda
¼ teaspoon sea salt
6 large eggs
1 tablespoon lemon zest
½ teaspoon vanilla stevia
1 cup blueberries, fresh or frozen
Instructions
In a food processor, pulse almond flour, egg white protein powder, cream of tartar, baking soda, and salt.
Pulse in eggs, lemon zest, and stevia until the batter is very smooth.
Stir in blueberries by hand.
Transfer batter to a greased 9 x 5-inch loaf dish.
Bake at 350°F for 45-55 min.
Cool for 2 hours, then remove from the pan.
Serve and enjoy
What to Eat With Keto Bread?
Low-Carb Blueberry Lemon Bread is excellent toasted then topped with butter or ghee, then smothered in a Low-Carb Plum Jam.