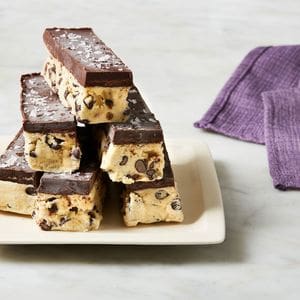 These keto cookie dough bars are the perfect choice for those looking for a comforting, delicious treat.
Filled with decadent ingredients like butter and sugar-free dark chocolate chips, they offer a guilt-free indulgence that will satisfy sweet cravings without sending you off track on your dietary goals.
Plus, they pair perfectly with a cup of freshly brewed coffee for an extra hint of sweetness and flavor.
Whether you're searching for something to curb your afternoon snack attack or need an after-dinner dessert option, these keto cookie dough bars provide all the flavor without any of the guilt! You can find more recipes in this book.
Total Time: 2 hrs 30 mins
Ingredients Keto Cookie Dough Bars
1 cup (2 sticks) butter, softened
2/3 cup Keto-friendly confectioners sugar (such as Swerve)
1 tsp. Pure vanilla extract 
1 1/2 tsp. kosher salt
4 cups almond flour
3 cups Keto-friendly dark chocolate chips
2 tbsp. coconut oil
Flaky sea salt
Nutrition Information per Serving
Calories 672
Fat 55g, including

Saturated fat 24g
Trans fat <1g
Cholesterol 42mg

Sodium 258 mg
Carbohydrates 26g, including:
Protein 12g
Vitamin D <1mcg
Calcium 64mg
Iron 6mg
Potassium 600mg
Note: The information shown is an estimate based on available ingredients and preparation.
Directions
Using a hand mixer, beat butter, sugar, vanilla, and salt in a large bowl until light and fluffy. 
Slowly beat in almond flour until no dry spots remain.
Fold in 1 cup of the chocolate chips.  
Coat an 8″-x-8″ baking pan with cooking spray.
Line with parchment, leaving an overhang on two sides.
Coat parchment with cooking spray.
Spread cookie dough evenly into the pan. 
Combine the remaining 2 cups of chocolate chips and coconut oil in a medium microwave-safe bowl.
Microwave, stirring every 30 seconds, until smooth and pourable.
Pour chocolate over the cookie dough layer and smooth. 
Garnish with flaky sea salt and place in the freezer to harden for 2 hours or overnight. 
When ready to serve, remove from baking dish and cut into bars.