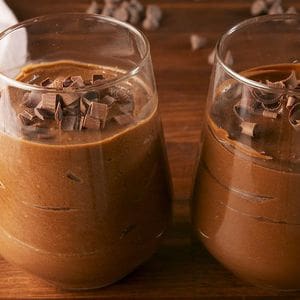 This keto chocolate mousse gets its rich, creamy texture from avocados. AVOCADOS? Yes, just try it 🙂
Keto Chocolate Mousse is an avocado-based ketogenic dessert. It is dairy-free and gluten-free, which makes it perfect for anyone looking to try a different flavor of keto desserts.
How to pick out a ripe avocado?
Avocado is a healthy food that can be consumed in many ways. To test it, give it a gentle squeeze. If it lightly yields to some pressure, then it's probably still good and ready for consumption. If it feels soft or mushy with little pressure, then it's likely past its prime time.
Keto Chocolate Mousse Ingredients
2 ripe avocados – peeled
3/4 cup heavy cream
1/2 cup keto-approved chocolate chips, melted
1/4 cup honey or your favorite keto sweetener
3 tbsp.

Unsweetened

cocoa powder
1 tsp. vanilla
1/2 tsp. kosher salt
chocolate curls for garnish (optional but recommended – Keto-Friendly)
Nutrition Information for the whole batch (not per serving)
Calories 1871
Fat 153g including:

Saturated fat 65g
Trans fat 0g
Cholesterol 250mg

Sodium 1.1g
Carbohydrates 90g, including:
Protein20g
Vitamin D 1mcg
Calcium 316mg
Iron 6mg
Potassium 2337mg
Note: The information shown is an estimate based on available ingredients and preparation.
Easy Directions
Blend all ingredients except chocolate curls until smooth in a food processor or blender. 
Transfer to serving glasses and refrigerate for 30 minutes and up to 1 hour.
Garnish with chocolate curls if using.