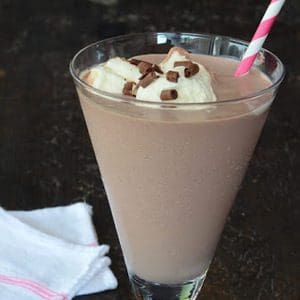 The perfect meal for those following a high-fat, low-carb diet, the keto chocolate smoothie is made with six ingredients. It's wonderful for busy mornings.
How to Make a Smoothie
Want a healthy, Keto-friendly recipe? Make this chocolate smoothie with coconut milk, protein powder, ground chia seeds, stevia, dark chocolate, and ice.
Healthy Chocolate Milkshake
My Keto Chocolate Smoothie is healthy, high-fat, and tastes like a classic milkshake.
Top with whipped cream to add some extra fat and make it even better.
Keto Diet Recipes
If you're looking for more low-carb, high-fat recipes, check out my Keto Diet page.
Instructions
Combine coconut milk, protein powder, chia, and stevia in a blender.
Blend in chocolate until smooth
Blend in ice cubes until the mixture is well combined.
Serve
Prep Time 5 minutes mins
Total Time 5 minutes mins
Keto Chocolate Pudding
This keto chocolate pudding recipe is incredibly rich and smooth, perfect for anyone trying to follow a ketogenic diet.
Just simply remove the last ingredient, ice, to create a warm and comforting dish.