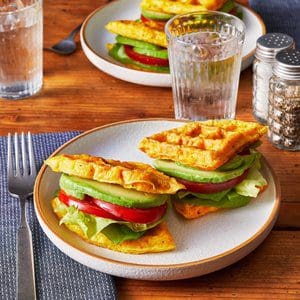 Cheesy Chaffle Sandwiches are delicious, low-carb breakfasts that can be easily prepared. I've added some bacon to the batter and used chaffles for the bread in my sandwiches filled with avocado and tomatoes.
Cheesy Chaffle Sandwiches Ingredients
10 large eggs
1 ¼ cups shredded cheese (I like sharp Cheddar)
2 or 3 slices bacon, cooked and crumbled
½ teaspoon ground pepper
2 small avocados, sliced
2 small tomatoes, sliced
4 large leaves of butterhead lettuce, cut into 3-inch pieces
Directions
Whisk eggs in a large bowl until smooth.
Stir in cheese, crumbled bacon, and pepper.
Preheat a 7-inch round waffle iron (not the Belgian kind )
Coat with cooking spray.
Pour about 2/3 cup of the egg mixture into the hot waffle iron.
Cook until the eggs are set and light golden brown, 4 to 5 minutes.
Repeat the procedure with cooking spray and the remaining egg mixture (making 4 chaffles total).
Slice each chaffle into quarters.
Top half of the quarters evenly with avocado slices, tomato slices, and lettuce.
Top with the remaining chaffle quarters (making 8 sandwiches).
Serve immediately.
Nutrition Facts (per serving – 1 Sandwich)
259 Calories
20g Fat
7g Carbs
14g Protein
Dietary Fiber 4g
Total Sugars 2g
Protein 14g
Total Fat 20g
Saturated Fat 7g
Cholesterol 252mg
The nutritional information is calculated using an ingredient database but should be considered an estimate.
As always, consult with your primary care provider or a registered dietitian if you are following a special diet for medical reasons.