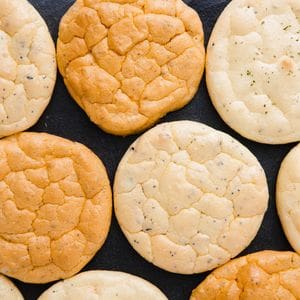 If you're following the ketogenic diet, you may be missing bread. I have a Keto Bread Easy Recipes that's light on carbs, but strong enough to withstand sandwich fillings. Best of all, no special ingredients are needed! Eggs, cream of tartar, cream cheese, and salt are all that's needed.
For this recipe, do I need cream of tartar?
This recipe only uses cream of tartar as a stabilizer. Basically, it helps you whip your egg whites to stiff peaks faster if you don't have any cream of tartar, no worries!
Is it possible to add cheese to my Keto bread?
It's a must! I recommend adding about 1/2 cup of shredded cheese per batch of bread. We like a mixture of mozzarella and parmesan.
What is the shelf life of these Keto bread/buns?
Your bread will last about 3 days at room temperature, but more like a week in the fridge. You can even freeze your bread. I recommend freezing them flat in resealable plastic bags with parchment paper between each piece. To reheat, toast them on a very low setting in your toaster oven. They burn easily!
Is this bread suitable for more than sandwiches?
The possibilities are endless! Cover a slice of bread with keto-friendly pizza sauce, mozzarella, and pepperoni, and broil for a delicious mini pizza; you could even make some Keto-bread bread pudding!
Ingredients for Plain Keto Bread
3 large eggs, at room temperature
1/4 tsp. cream of tartar
Pinch of kosher salt
2 oz. softened cream cheese
Additional Ingredients for Pizza Keto Bread
1 tbsp. Italian seasoning
2 tbsp. shredded mozzarella or grated Parmesan
2 tsp. tomato paste
Additional Ingredients for Everything Bagel Keto Bread
1/8 tsp. kosher salt
1 tsp. poppy seeds
1 tsp. sesame seeds
1 tsp. minced dried garlic
1 tsp. minced dried onion
Additional Ingredients for Ranch Keto Bread
1 1/2 tsp. Ranch seasoning powder
Nutrition Information Per Serving
Calories 64
Fat 5g
Sodium 75mg
Carbohydrates 1g, including:
Protein 3g
Note: As always, the information shown is an estimate based on available ingredients and preparation.
Directions
For Plain Keto Bread

Preheat the oven to 300°and line a large baking sheet with parchment paper.
Separate egg whites from yolks into two medium glass bowls.
Add cream of tartar and salt to egg whites, then using a hand mixer, beat until stiff peaks from – 2 to 3 minutes.
Add cream cheese to egg yolks, then, using a hand mixer, mix yolks, and cream cheese until combined.
Gently fold the egg yolk mixture into egg whites.
Divide the mixture into 8 mounds on a prepared baking sheet, spacing them about 4" apart.
Bake until golden, 25 to 30 minutes. 
Immediately sprinkle each piece of bread with cheese and bake until melty, 2 to 3 minutes more.
Let cool slightly.

For Pizza Keto Bread:

Add 1 tablespoon Italian seasoning, 2 tbsp shredded mozzarella or grated Parmesan, and 2 teaspoons tomato paste into the egg yolk mixture.

For Everything Bagel Keto Bread:

Into the egg yolk mixture, add ⅛ teaspoon kosher salt, 1 teaspoon poppy seeds, 1 teaspoon sesame seeds, 1 teaspoon minced dried garlic, and 1 teaspoon minced dried onion. (Or use 1 tablespoon of everything bagel seasoning.)

For Ranch Keto Bread:

Into the egg yolk mixture, add 1½ teaspoons ranch seasoning powder.