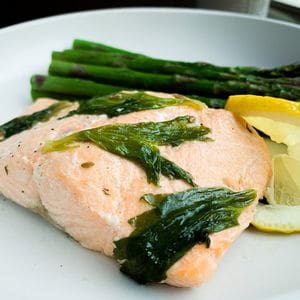 It's time to break free from unhealthy eating habits and indulge in the goodness of this Keto Poached Salmon!
This mouth-watering recipe ticks all the boxes – healthy, keto-friendly, gluten-free, delicious, and above all, very easy to make. It is a fragrant dish with celery leaves, fennel seed, garlic, and thyme that perfectly complements our succulent salmon.
Savor every bite guilt-free – this main dish will give you a major flavor without adding on major calories. So why wait? Give your taste buds a reason to smile today with our Keto Poached Salmon!
Preparation time 10 minutes
Cooking time 10 minutes
Serves 4 hungry people 🙂
Keto Poached Salmon Ingredients
3-4 salmon fillets (4-6 oz), skinned
1/4 teaspoon sea salt
1/8 teaspoon ground black pepper
1 teaspoon olive oil
3 garlic cloves, chopped
2 1/2 cups broth of your choice
1/2 onion, halved
1/3 cup fresh celery leaves
1/4 teaspoon fennel seed
8 sprigs of thyme
Lemon for garnish and to squeeze on fish
Directions
Season the salmon fillets with salt and pepper.
Add the oil and saute the garlic in a large skillet on medium heat.
Pour in the broth and add all the remaining ingredients (thyme, garlic, onion…).
Bring it to a simmer.
Put the salmon (skinned side down) into the poaching liquid.
Place some of the celery leaves on top of the salmon.
Cover and cook for 5-10 minutes (depending on the thickness) or to the desired doneness.
Be careful not to overcook.
Serve with a squeeze of lemon juice over the fish before serving and a side of veggies of your choice.
Add low-carb veggies, my family loves asparagus 🙂
Enjoy your nutritious dinner!