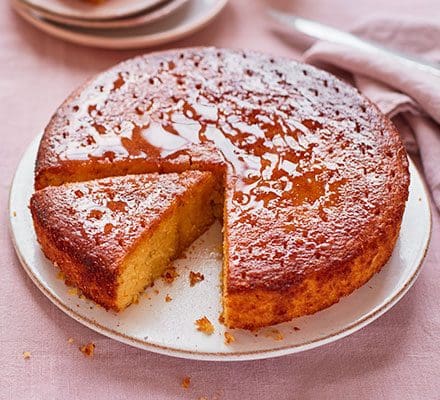 Preparation time: Only 15 minutes
Cooking time: 1 hour and 15 minutes
The recipe makes a 9″ round cake
This keto orange cake recipe is adapted from the famous Maialino's Olive Oil Cake. I substituted almond and coconut flours to replace the "all-purpose" flour, and I replace sugar with monk fruit extract. Love the addition of cloves to compliment the orange. Makes a very moist cake with a bread-pudding-like consistency. —RK Barry
Keto Orange Cake Ingredients
1 3/4 cups Almond Flour
1 tablespoon Coconut Flour
1 1/2 teaspoon Kosher Salt
1/2 teaspoon Baking Powder
1/2 teaspoon Baking Soda
3/4 teaspoon Ground Cloves
1 3/4 cups Monkfruit Sweetener
1 1/3 cups Extra-virgin Olive Oil
1 1/4 cups Whole Milk
3 Large Eggs
1 1/2 tablespoons Grated Orange Zest
1/4 cup Fresh Orange Juice
Directions
Heat oven to 350F.
Prepare a 9″ springform cake pan with butter or spray.
Line the bottom of the pan with parchment paper and butter, or spray the paper.
Combine dry ingredients in a bowl and whisk till well combined.
Combine wet ingredients in another bowl and whisk together till well combined.
Add dry ingredients to wet ingredients and whisk together till just combined.
Pour batter into prepared pan and bake for 1 hour and 15 minutes, covering the pan loosely with foil for the last 30 minutes to avoid over-browning.
Remove from oven when the cake is golden brown, and a tester comes out clean.
Place the pan on a cooling rack and allow the cake to cool in the pan for at least 30 minutes before removing the springform ring.
Run a knife around the inside edge of the pan, remove the ring, and allow the cake to cool completely.
Serve from the base of the springform pan to avoid cracking or breaking.
The cake is very moist and tender.